| | | |
| --- | --- | --- |
| | Date | Place |
| Born | Abt. 1844 | Althorne, Essex |
| Baptised | | |
| Married | Dec 1861 | Steeple, Essex |
| Died | 16 May 1924 | North Sydney, NSW, Australia |
| Buried | 17 May 1924 | Gore Hill Cemetery, St Leonards, NSW, Australia |
Children

Name

Born

Place

Notes

Elizabeth Ann Halstead

1862

Steeple

Died as a baby

Thomas Everett Halstead

1 Apr 1864

Steeple

Mar. Anne Ludbrooke

Elizabeth Alice Halstead

1867

Steeple

Mar. 1. Adolph Grunow; 2. Charles Barlow

Obadiah John Halstead

1869

Steeple

Died aged 7

Laban Halstead

1871

Steeple

Died aged 5

Lydia Halstead

1873

Steeple

Died aged 3

Isaac Leonard Halstead

Abt. 1876

St Leonards, NSW

Mar. Frances Parkes

Matilda May Halstead

1878

St Leonards, NSW

Mar. 1. William Porter; 2. George Eaton

William Ernest Halstead

1880

St Leonards, NSW

Mar. 1. Veronica; 2. Mary Fuller

Violet Louise Halstead

1882

St Leonards, NSW

Mar. Frank Holt

Spencer Victor Halstead

1883

St Leonards, NSW

Mar. Lila May
Census record of: Sarah Ann Everett*

Year: 1851

County: Essex

PRO Reference: HO107 / 1778

Schedule no. 59

Parish: Steeple

City, borough, town, village:

Address:

(Grange Flat Field)

Name

Rel.

Condition

Age

Rank, profession or occupation

Where born

M

F

Elizabeth Everett

Head

W

46

Pauper

Canewdon, Essex

James Everett

Son

U

22

Ag. Lab.

Althorne, Essex

Thomas Everett

Son

U

12

Ag. Lab.

Althorne, Essex

Samuel Everett

Son

U

10

Althorne, Essex

Sarah Everett*

Dau.

U

7

Althorne, Essex

Elizabeth Everett

Dau.

U

4

St Lawrence, Essex

Geo. (Cowlen)

Lodger

U

26

Pauper

Steeple, Essex
Year: 1861

County: Essex

PRO Reference: RG9 1087

Schedule no. 25

Parish: Steeple

City, borough, town, village:

Address:

Name

Rel.

Condition

Age

Rank, profession or occupation

Where born

M

F

Sarah A. Everett*

Head

Un

17

Althorne, Essex

Elizabeth Everett

Sister

14

St Lawrence, Essex

Henry Harrison

Boarder

Un

54

Ag. Lab.

Steeple, Essex

Laban Halstead

Lodger

Un

21

Ag. Lab.

Southminster, Essex
Year: 1871

County: Essex

PRO Reference: RG10 1671

Schedule no. 56

Parish: Steeple

City, borough, town, village:

Address:

High Street

Name

Rel.

Condition

Age

Rank, profession or occupation

Where born

M

F

Laban Halstead

Head

Mar

30

Ag. Lab.

Southminster, Essex

Sarah A. Halstead*

Wife

Mar

29

Ag Lab's wife

Althorne, Essex

Thomas Halstead

Son

7

Scholar

Steeple, Essex

Elizabeth Halstead

Dau.

5

Scholar

Steeple, Essex

Obadiah Halstead

Son

2

Steeple, Essex
Sarah Ann Everett married Laban Halstead in December 1861. In 1874 Sarah Ann, Laban and their five surviving children (Thomas, Elizabeth A., Obadiah, Laban and Lydia) migrated to Australia aboard the ship Ninevah. View crew and passenger list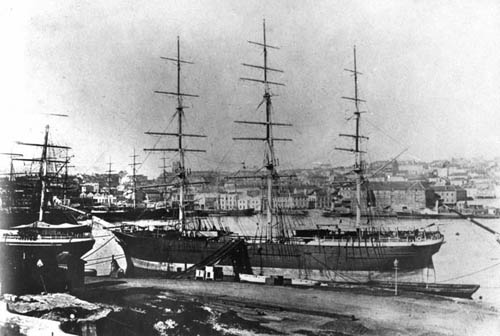 The 'Ninevah' at Sydney
NINEVAH
This was a 1,174 ton wooden hulled ship, built in 1864 by Walter Hood, Aberdeen for the Aberdeen White Star Line. This company was renowned for the smartness of their ships, with their green painted hulls, white masts and spars and gilt scroll work at their bows and sterns. The NINEVAH was considered a lucky ship with her freights and passengers and made a great deal of money for her owners. She made a passage from the UK to Sydney of 79 days in 1873, and was used in the wool trade on the homeward voyages which took about 105 days. Later purchased by Goodlet & Smith, Sydney, she was abandoned in the North Pacific in February 1896. [The Colonial Clippers by Basil Lubbock]

Source: http://www.theshipslist.com/ships/descriptions/ShipsN.html
The family arrived in Sydney in January, 1875. Laban's brothers Samuel and James were already in Australia. James Halstead started a boat-building business based in Lavender Bay.
More about the Halstead boat-building business.
Sadly, three of the children, (Obadiah, aged 7; Laban, aged 5; and Lydia, aged 3), died within 18 months of their arrival in Australia. Laban and Sarah went on to have 5 more children: Isaac Leonard, b. 1876; Matilda May, b. 1878; William Ernest, b. 1880; Violet Louise, b. 1882; Spencer Victor, b. 1883.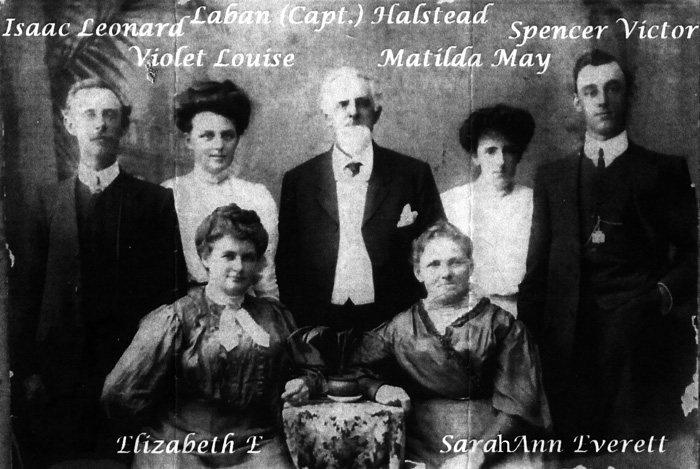 Laban and Sarah Ann with 5 of their children
| | |
| --- | --- |
| Right: Isaac Leonard Halstead, wife Frances A. (nee Parkes) and daughter Mary, photographed in 1907. | |
Places where my ancestors lived