More about Michael (Micky) Mordue (14)
Handball
| | | |
| --- | --- | --- |
| | | Group of handball players in 1914 with Micky Mordue seated right and Micky's brother Jacky seated left, standing behind are the Stones brothers against whom the Mordue brothers played 'four hands against six hands'. |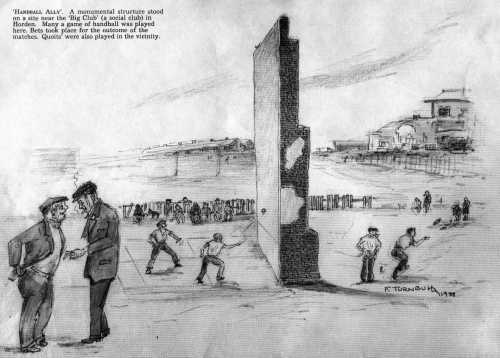 Sketch by F. Turnbull showing the monumental structure in 'Handball Alley' near the Big Club, Horden, against which the game of handball was played.
In 'Horden Miners' Mr A. Pratt describes in his own words:
"Micky Mordue was on deputy work at Horden Colliery when war broke out. He joined up in August 1914 and went down in Dardanelles in 1915. The other one, Jacky Mordue played football for Sunderland. The Mordues were world famous for their handball playing. The two Mordues played against the three Stones brothers, that was four hands against six hands and that was the only way people would play them. It was a game where a lot of brute strength was required. They would use brute strength with cuteness. They trained before the big match for weeks, hitting the ball against the alley, from one corner to another. I have seen a match go on for six hours. They played it on every street corner and gable-end. If they thought they were good enough they would try for a game on the big alley for money. The players would travel right around. Trapper Charlton, Pauly Tennant, Jacky Cook, Trapper Harkness - all from Horden with the Mordues, and all good players".
...............ooo000ooo...............
| | | |
| --- | --- | --- |
| Group outside the 'Big Club', Horden with Micky Mordue standing second from right, standing fourth from right is Tommy Coatman. In front, first left is Bobby Dunne and third from left is Bill Coatman. | | |
Horden AFC 1912-13 (part only) with Micky Mordue in centre row, fourth from left.

Horden were Wearside league winners in 1912 and 1913; they won the Monkwearmouth Charity Cup in 1912 and the Seaham Charity Cup in 1913.
The Great War
Private Michael Mordue enlisted in 1914 and joined the 6th battalion Yorkshire Regiment. He joined the Gallipoli campaign and took part in the Suvla Bay landing and was killed in action on 22nd August 1915. Michael Mordue is commemorated on the Helles Memorial for those who have no known grave. Cape Helles is situated on the extreme south-western point of the Gallipoli peninsula.
A newspaper cutting reports a letter sent from Turkey by Mick Mordue:
FACING CERTAIN DEATH IN THE DARDANELLES
Pte. Mick Mordue, of the 6th Yorks, writing from the Dardanelles to his wife, Mrs Mordue, of 17, Eden Street, Horden, says:-
'Just a few lines hoping you are all keeping in the best of health. I am pleased to say that I am all right myself, thanks be to the Lord. We left our camp to go into action last Friday, August 6th, and I shall never forget it. We had to make a new landing on the Peninsula. Arriving about 10 O'clock at night we found the Turks were waiting for us. They rained bullets at us as we were coming off the boat. Our Colonel and Captain got shot straight away. I am sorry to say that Billy Belcher got killed about 20 minutes after we landed. We got our orders not to fire, but use the bayonet only. It was just like facing certain death, but our regiment, who were the first to land, never faltered. We got the order to charge, and we did not forget to either. I am the luckiest man alive. I was with Billy Belcher and another five of our section, and I am sorry to say all of them were shot by my side. How I escaped the Lord above knows. You can tell Mr Bob Belcher that Billy died like a hero. We have never faltered since Friday night until today (Thursday), when we are back out of the trenches. I have not much more to tell you. Only tell my mother how I am getting on. Keep your heart up, because I think I am sure to pull through now after the escapes I have had. So now I shall conclude. Give my best love to all.'
Newcastle Journal 25 September 1915
Horden Man Missing
Mrs Mordue, 17 Eden Street, Horden, Durham county, has been informed that Private M. Mordue, of the 6th Yorks, was posted as missing after an engagement on August 22nd.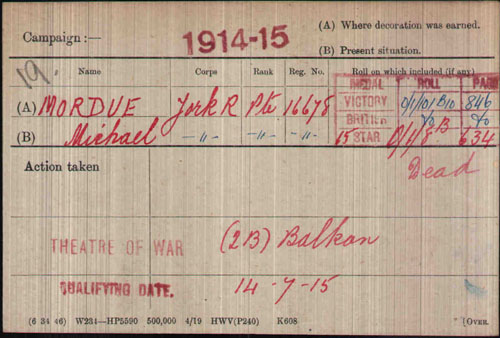 Medal Card for Michael Mordue and below, examples of the medals awarded.
| | | |
| --- | --- | --- |
| | | |
| 1914-15 Star | British War Medal | Victory Medal |
Den Cutts has some interesting information on his family history website about his relative, David Elliott, who also served with the 6th Battalion at Suvla Bay
Click Here to view the page